Your Connection to Direct Response and Retail Sales
Located in Toronto, Canada, Northern Response specializes in the distribution of infomercials, DRTV spots, and retail products. Northern Response is the largest distributor of infomercials in Canada and one of the largest international syndicators of DRTV programming in the world with distribution to over 90 countries. Since 1984, we have handled campaign distribution for over 1,000 infomercials, DRTV spots, print and retail products. Our multi-channel platform includes DRTV Sales, Television Shopping Channels, Print and Catalogue Marketing, Outbound Telemarketing, Database Programs, Online E-Commerce Sales and Retail Sales.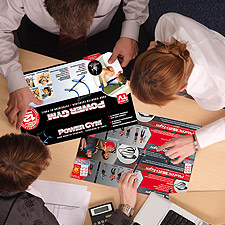 In short – we are a one-stop shop for all your marketing needs. Most importantly, Northern will handle all facets of your marketing, with absolutely no risk to you!
Over the past 25 years, Northern Response has grown to become a world leader in the direct response, home shopping and retail product distribution industry. Today we operate five separate sales divisions:
With more than 1,000 products distributed and sales to over 90 countries, we've built the established relationships, experienced management, state-of-the-art facilities, and proven track record to ensure the success of any product we distribute. That's why we handle the licensing and distribution for some of the best-selling infomercials and DRTV spots on behalf of some of the biggest infomercial and DRTV producers in the world.
RICHARD J. STACEY 

President & CEO
Mr. Stacey began his career as an accountant, leaving the firm Ernst & Young to start his own direct-mail and seminar business. He later became the first person in Canada to produce a TV infomercial, and after writing, directing, and starring in a variety of successful infomercials, he formed Northern Response to service the needs of other infomercial and tele-shopping companies who needed media and distribution services in Canada and Internationally.
Based in Toronto Canada, Northern Response is now the largest infomercial company in Canada and the largest international syndicator of third-party DRTV programming in the world. The company is a multi-channel distributor selling products across a diverse range of platforms including DRTV, live shopping, online, print, and retail in over 120 countries worldwide. The company has distributed over 3,000 infomercials since 1984.
The company has four main divisions which include DRTV, E-Commerce, Retail and International sales, and has distributed a wide variety of product categories including housewares, fitness, health & beauty, books & video, cleaning and hardware products. Its many successful products include ShamWow, P90X, Slap Chop, Ahhh Bra, Sticky Buddy, Tony Robbins' Personal Power; Victoria Principal's cosmetics; Tony Little's Fitness Equipment; Lip Solution with Pamela Anderson; ShakeWeight; Dr. Ho; Total Pillow; Zumba; Oreck Air Purifier; ProActiv Acne Solution with Vanessa Williams, P.Diddy, and Alicia Keyes; Winsor Pilates with Mari Winsor and Daisy Fuentes; Susan Sommers Body Row; Ronco Food Dehydrator with Ron Popeil; Chuck Norris & Christie Brinkley's Total Gym; Tae Bo with Billy Blanks; Hip Hop Abs; Turbo Jam; Perfect Push Up; Little Giant Ladder; and many others. Northern Response's clients have included Guthy-Renker Corp., Fitness Quest, Tristar Products, Ronco, Telebrands, American Telecast, QVC Direct, HSN Direct, Beachbody, Emson, Savvier, Sylmark, OnTel, Idea Village, Hampton Direct, Time Life and many others.
Northern Response has state-of-the-art DRTV production studio and product development facilities along with large scale warehousing based in Toronto and is the largest distributor of As Seen on TV products to Canadian retail stores including Wal-Mart Canada (333 stores), Sears Canada (120 stores), Canadian Tire (487 stores), Costco (82 stores), Shoppers Drug Mart (1009 stores), and Zellers/Target (231 stores) and also sells to various print and catalogue distributors and shopping channels. The Company's USA division distributes products through multiple channels of direct response and retail distribution including live shopping, catalogue and all major US mass retailers.
Mr. Stacey is a member of the Electronic Media Marketing Association in New York and also serves on the Advisory Board of Response TV magazine in California. He is a member of the LA based Jordan Whitney Industry Monitoring Report Green Ribbon Panel and has served on the Editorial Advisory Council of Electronic Retailing Magazine, the executive committee of the Broadcast and Interactive Technologies council of the Canadian Marketing Association and the Board of Directors of the Electronic Retailing Association (formerly the National Informercial Marketing Association) based in Washington, D.C. He is a past Board of Director of Inpulse Response in Phoenix, Arizona and is also an active member of the Young Presidents Organization (YPO), Oviinbyrd Dining Club (Muskoka) and The Spoke Club (Toronto). An avid traveller Mr. Stacey has visited over 80 countries during his career. Mr. Stacey is listed in the Canadian Who's Who and is a Commerce and Economics graduate of the University of Toronto. He is the author of several books on business and investments. He has completed executive education programs at UWO's Ivey Business School, the London Business School (UK), and the Harvard Business School.